Bromo Tour Package By MtBromoIjenTour.Com. Mount Bromo is one of the active volcanoes in Surabaya East Java Province and is included in the Bromo Tengger Semeru National Park Area. Residents around Mount Bromo (Tengger Tribe) who are predominantly Hindu, Mount Bromo is considered a sacred mountain.
Mount Bromo is located in 4 districts in East Java, namely Malang Regency, Lumajang Regency, Pasuruan Regency, and Probolinggo Regency. According to its development from year to year, Mount Bromo has become one of the favorite tourist destinations that tourists always want to visit both local and foreign tourists when they come to East Java Province.
Mount Bromo Tour Package
Making Mount Bromo a tourist destination is very appropriate. Because Bromo offers the charm of nature tourism that is second to none in this world, it is not surprising that Bromo is always visited by tourists both within the country and abroad. Especially during the national holiday season or winter vacation. 
Many people take Mount Bromo tour package as a means of vacation either with family or with family. Because Bromo is safe for all ages, from children, teenagers, adults, and the elderly, the important thing is that during the holidays in Bromo, the condition of the body must be healthy and fit.
Mount Bromo Sunrise Tour
To get to the Bromo area and witness the amazing Bromo sunrise tour, we should use a jeep/hardtop vehicle. Or if you want to test your adrenaline more, we can use a dirt bike or motocross. These two vehicles are recommended because they are in accordance with the heavy terrain of climbs, rocks, sand, and puddles in the Bromo area.
To catch the sunrise on Mount Bromo, we have to leave early in the morning from the hotel. Generally, leave at 3 am to go to the sunrise view point. When we get there, while waiting for the sun to come up we can enjoy hot tea or hot coffee.
Mount Bromo Tour 2023
List Of Mount Bromo Tour Package From Surabaya, Malang, Yogyakarta, Bali, Probolinggo, and Banyuwangi
Bromo Tour Itinerary
Here is regular itinerary of mount bromo tour
DAY 1 : SURABAYA / MALANG – MOUNT BROMO HOTEL
Bromo Malang private tour program 2 days 1 night starts with picking you up from Surabaya or Malang, then heading the hotel near mount bromo
From Surabaya or malang to Mt Bromo normally need 3 hours driving
After arrive at hotel near mt bromo chek in hotel and rest
DAY 2 : BROMO SUNRISE TOUR – BROMO CRATER TOUR – FINISH
03:00AM Our travel agent team will pick you up using the Bromo Jeep for the Bromo sunrise program at the top of Mt Penanjakan 1.
Arrive at the top of climb 1, walk for 5 minutes to the best spot to see the beauty of Bromo Sunrise.
06:00AM, continue the journey to Bromo Crater – + 20 minutes drive from the top of the sunrise.
Arrive at the jeep parking lot near Bromo Crater, walk for 30 minutes or use a horse-riding rental service to the location of Bromo crater.
ExploreMt Bromo Crater until satisfied
After exploring all the tourist points in the Bromo Tengger National Park area, return to the hotel for breakfast.
After that, the travel agent will take you back to the initial pick-up location, which is in Surabaya or Malang and the 2 days 1 night Bromo Malang tour is over.
Mount Bromo Tour Price 2023
| Tours | Price Start From |
| --- | --- |
| Bromo Day Tour / Midnight | IDR 500.000/pax |
| Bromo Tour 2 Days | IDR 950.000/pax |
| Bromo Tour 3 Days | IDR 1.250.000/pax |
| Bromo Camping Tour 2 Days | IDR 1.100.000/pax |
| Bromo Milky Way Tour | IDR 1.350.000/pax |
| Bromo Ijen Tour 3 Days | IDR 1.650.000/pax |
| Bromo Semeru Trekking | IDR 2.950.000/pax |
Facility
Including :
Accommodation at Mount Bromo for 1 night (Bromo Permai hotel, Cafe Lava Hostel, Cemara Indah Hotel, Tengger Villa, Adas Hotel, Nadia Hotel, Yoschi Hotel, Sion View, and similar).
You can upgrade to Lava View, Jiwa Jawa Resort, Bromo Terrace, Bromo Whiz Prime or SM Hotel or Plataran Bromo Hotel. Or downgrade rooms to homestays or cheap villas around Bromo
Rent a Jeep at Bromo for Bromo Sunrise Tour
Rent a car to Bromo Private during the tour (Driver + BBM + AC + Highway fee+ Parking)
Mount Bromo entrance ticket
Mineral water is always available
Speaking English Driver
Not included :
Individual needs
Tour out of schedule
Travel Insurance
The cost of renting a horse in Bromo
What should to bring for this trip?
Protective Clothing From Cold Temperatures ( Jackets, Masks, Scarves, Head Covers, Shoes, T-shirts)
Please prepare personal medicines
Camera Or Other Tool That Serves To Capture Vacation Moments In Bromo.
How To Get Mount Bromo?
To be able to go to the Mount Bromo area, we can choose from several entrance routes. If you come from the city of Malang and Batu, you can go to Bromo via the Tumpang route and then towards Pronojiwo. Or it could be through the Nongkojajar route. However, the Nongkojajar route has drawbacks due to narrow and damaged road access. The following path is through the west door from the direction of Pasuruan by entering from the Tosari area.
For vehicles coming from the direction of Nongkojajar and Tosari, they will stop at Wonokitri to change vehicles using a Jeep. Or if we come from the direction of Probolinggo, we can take the Tongas route, go to Sukapura Village to park most tourist vehicles, or head to Cemoro Lawang Village, where there are many inns.
Trail bike users are advised to go through the Tumpang route. This path is a favorite path for trail mania because it presents the sensation of a suitable road trajectory for them. Passing Ngadas village and also later will pass through the Coban Pelangi waterfall area.
Related: Mount Bromo Ijen Tour Package 3 Days
What Is Special About Mount Bromo?
During Mount Bromo Tour Package, some of the best spots owned by Mount Bromo include spots to watch the sunrise we can see through Penanjakan Peak, Love Hill, and Kingkong Hill. The beauty of the best sunrise panorama will be obtained if the natural weather supports it. Because usually, in the rainy season, it will be rare to see the sunrise because of the thick fog. However, we can still enjoy the beautiful natural charm of Bromo despite the fog by taking selfies with the background of Mount Bromo.
There are several more spots that we must explore when visiting Bromo. While doing the tour schedule with us. We will take you to some of the most popular tourist spots on Mount Bromo. The tourist attractions are as follows:
1. Witnessing Golden Sunrise
Mount Bromo Tour for Sunrise at Mt Penanjakan view point famous people call this place Mt Penanjakan Sunrise Point. This place is essential to place during your trip to Mount Bromo. The reason is that few visitors who come to this place leave in the early morning or midnight to watch the sun rise directly from the top of the mountain.
Locations to see the best sunrise view is at Mt Penanjakan, Kingkong Hill, Love Hill, and Mt Penanjakan 2. While here, you can directly see how amazing the view is rising directly. It takes a little energy to climb a good sunrise point to reach this place. But the tiredness will pay off when you see how beautiful one of the natural beauties is that has been difficult to see.
2. Hiking Bromo Crater
Like the name a Crater, you can directly see the view of the volcanic crater. In this tourist spot, you must walk and climb the stairs to reach the top of Mount Bromo. From the top of the peak Bromo tour, you can see the crater of Mount Bromo directly. And the most challenging place that should not be missed is the crater of Mount Bromo. Why is it said to be challenging? Because to get to the crater of Mount Bromo, we have to walk as far as about 2 kilometers with a slope of 45 degrees and climb stairs to the crater, which amounts to about 250 steps.
Of course, it will be exhausting. However, if you feel unable to walk, there are horse facilities to make it easier to get to the crater of Mount Bromo. Of course, the rental price is quite expensive; the price range is 120,000-150,000 rupiah. Arriving at the top of the tiring journey to the crater will be paid off with an exotic view of the crater that puffs of smoke.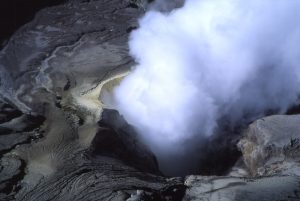 3. Whispering Sand Bromo
Whispering sand is the name for the sand caldera resulting from the eruption of Mount Bromo. This sea of ​​sand is also a great selfie spot. If you hear his name, maybe you will wonder if there is sand that can whisper. Of course not; the place is called Whispering Sand because when the wind blows on the vast expanse of sand, it makes a sound from the grains of sand that seem to whisper like small waves in the ocean. This place is one of the most spots to visit on the Bromo tour package.
4. Bromo Savannah Meadow
From the name "meadow," it can be concluded that this tourist spot is a very broad tourist spot during taking a Bromo Package Tour. While "Savannah" is a word that can be interpreted as a collection of grass. So when combined, it can have a very broad expanse of grass meaning. However, it is different from the general view. Padang Savannah, located on Mount Bromo, has nice green grass and a height of between half to one meter.
It has a lot of weeds, making this tourist spot very suitable to be used as a place to release longing about the thick nature and also a very suitable place to be used as a background for taking photos or documentation, apart from having a great view.
In this place, many tourists capture the moment by taking pictures of the horses rented by the residents or local tourism managers. So it's not just selfies that are memorable. You can also take pictures riding a horse, like in magazines with natural backgrounds.
5. Teletubbies Hill
If you've ever watched a children's show in the TV series Teletubbies. During the mount Bromo tour package, this place is not far from the view you get when watching the television show. In this tourist spot, you can see green hills that are cool to the eye, like the hills in the Teletubbies series. But the difference here is that you can spoil your eyes to see the scenery. At Teletubbies Hill, you will also feel the relaxed feel of the mountains, which can only be obtained if you go to Mount Bromo.
What needs to be prepared when going to Bromo Tour Package?
During take a Bromo package tour, Bromo visitors are required to prepare themselves as well as possible. Due to the cold weather and temperatures, visitors are advised to wear appropriate, comfortable, and warm clothes. Beanies, scarves, and earmuffs may also work if they're not too strong in cold temperatures. Bring personal medicines, which are also necessary for visitors who may have a history of unusual illnesses in cold temperatures.