Bromo Ijen Tour From Yogyakarta. This tour package can be the best choice for those of you who want to explore the beauty of the active volcanoes of Mount Bromo and Ijen Crater before heading your trips to Bali.
The interesting thing to do at Bromo is see witnessing of sunrise and crater hike. When on vacation to Ijen Crater, the main activity is climbing to Ijen Crater to see the unique scenery of Blue Fire or Blue Flame. We have compiled a schedule/plan for this tour activity based on professional standards at a low price but the facilities are very complete.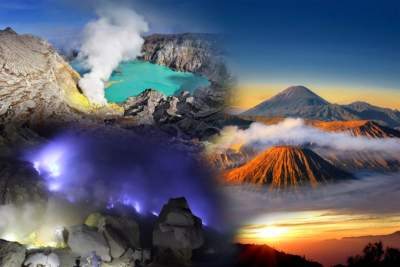 Yogyakarta Bromo Ijen Tour
Bromo Ijen from Yogyakarta is very suitable for tourists from Yogyakarta who want to continue the tour to Bali, but are on the way to Bali while visiting Mount Bromo and Ijen Crater. We can pick you up from the hotel or lodge in the Yogyakarta area. Besides pick up from the Yogyakarta area we also serve pick up from Semarang, Solo, Surakarta other cities in Central Java based on what you want to pick up.
The trip begins with picking up participants at a meeting that has been agreed upon in Yogyakarta. Then we will start the Bromo and Ijen Crater Trip with the first visit to Mount Bromo tourism through the entrance gate at Probolinggo. The journey from Yogyakarta to Mount Bromo requires around 7-8 hours of driving. Then after the visit Bromo continued to the Ijen Crater tour via Bondowoso. On the last day, the Optional location for drop off by back to Surabaya, Malang, Ketapang, Banyuwangi Port, or Bali
3 Days Bromo Ijen Tour From Yogyakarta Itinerary
Pick Up Point: Yogyakarta area (Hotel, Train Station, Airport, apartment , etc).
Drop Off Point: Surabaya, Ketapang Harbour, Banyuwangi City, Bali Island (Hotel, Train Station, Airport, Apartement, Etc)
The best time starts for this tour: is 08 am – 09.00 pm
Best time for drop off to Surabaya Airport: 17.00 pm to 19.00 pm
By drop Off at Banyuwangi or Ketapang Harbour, arrived here around 12 noon
If directly drop off in Bali (Ubud / Denpasar/Kuta), reach your hotel around 16.00 pm
The complete itinerary is as follows:
Day 01: Yogyakarta To Mt Bromo area (Hotel)
Yogyakarta Bromo Ijen Tour stats by on your first day of vacation visit to Mt Bromo, you'll pick up at hotel around Yogyakarta in morning after breakfast. Then we'll proceed on this tour to visit the Mount Bromo attraction having a duration of 7-8 hours with the use a standard private car via highway from Solo to Probolinggo.
During the journey to Mount Bromo, we will have lunch and rest at a local restaurant, and once arriving in the Bromo area, check-in process, stay at hotel Bromo / lodge/homestay. In the afternoon you are able to have a walk around Bromo such as see the Bromo sunset or free programs
Day 02: Mount Bromo Sunrise Tour – Bromo Hiking Tour – Hotel Mount Ijen area
Visiting all object tourism in Bromo area, It'll begin from early morning at 03. 00 am,  use a Jeep/hardtop transport. The very first spot are you going to visit is Mt Penanjakan 1 (Viewpoint 1 ). At this place you'll visit to enjoy and to discover the gorgeous Sunrise which has a beautiful view, also you are able to see others view for example Mt Bromo, Mount Semeru and Mount Batok. After being quite satisfied with the sunrise tour, the subsequent trip will certainly be always the crater of Bromo.
Visiting Bromo Crater you are able to do it by soft hiking or take by horse to an easy method for reaching the crater and you may enjoy the crater of Mount Bromo. At about 08: 00 am we will to the hotel for having breakfast, pack and after the Bromo tour package is completed continue the journey will certainly be always the Ijen Plateau Banyuwangi.
This journey will require about 5 hours drive. AfterArrive in the mount Ijen area, then process to your hotel which has got the closest location to the Ijen Crater area for example Catimor Homestay or Arabica Homestay or stay overnight at Bodowoso district or Banyuwangi district. Time to rest and sleep to prepare for Mt Ijen Blue Fire Trekking in midnight.
Day 03 : Ijen Blue Fire Tour – Then Get To Your Last Destination (Surabaya/Bali/Banyuwangi)
To start the tour to Kawah Ijen crater, after waking up at 00.00 and preparing for the trekking finish, at 01.00 am the trip to Ijen crater begins with our team driving you to the Ijen Entrance gate, from the hotel you stay to this gate is needs around 1 hours journey. Paltuding Post is the initial location to start climbing to the Ijen crater. Trekking to the Ijen summit is about 2 hours normal, whenever you arrive at the highest, descend to the lake and explore the phenomenon of blue fire / blue flame.
After being satisfied explore this rare view, back to the top and enjoy the gorgeous Ijen crater view from the top and see the sunrise. At 09. 00 or 10. 00 am, you descend down back to Paltuding post, back to the hotel, have a shower, packing. And last our team will drive you out to Surabaya airport by a 7-8 hours drive or drop you off at the port of Ketapang Banyuwangi for 2 hour's drive or directly crossing to Bali. Mount Bromo Ijen Tour From Yogyakarta 3 Days finish
Related tours: Bromo Ijen Tumpak Sewu Waterfall Tour 4 Days
Bromo Ijen Tour From Yogyakarta Price 2023
| Pax | Price |
| --- | --- |
| 1 pax | IDR 7.600.000/pax |
| 2 pax | IDR 4.100.000/pax |
| 3 pax | IDR 3.200.000/pax |
| 4 pax | IDR 2.650.000/pax |
| 5 pax | IDR 2.350.000/pax |
| 6 pax | IDR 2.150.000/pax |
Note Additional drop off to Bali (Ubud, Denpasar, Kuta, Lovina) IDR 1.500.000 for 1 to 5 people.
Facility
Inclusions :
– Private transport accommodation for 3d/2n Bromo & Ijen Tour (incl: car, driver, petrol, parking and toll fees)
– Jeep 4wd for Bromo Tour (joining jeep)
– 1 nite hotel Bromo area at Cemara Indah/Cafe Lava Hote/Bromo Permai Hotel/Rahayu Hotel/Adas Villa or similar hotel/homestay
standard room with breakfast, cool & hot shower
– 1 nite homestay Ijen area at Arabica or Catimor or Ijen Bondowoso Homestay
standard room with breakfast, cool & hot shower
– English speaking driver
– Mineral drinking water
– 2 x breakfast
– Entrance fee Bromo & Ijen
– Local guide Ijen Blue Fire
Not including the tour :
– lunch and dinner
– riding pony horse to Bromo Crater
– travel insurance
– personal expenses
What to bring ?
warm jacket, head cover, good mask, good grip shoes, sock, glove, sunblock, any medicine, torch light, raincoat (just in case)
How you can start the trip of Mt Bromo Tour and Ijen Crater Travel Package 3 days 2 nights?
Mount Bromo Ijen Tour 3 Days Package from Yogyakarta, please prepare your self after breakfast. Because our team will be ready at your hotel at 07.30 Am. If you want drop off to Surabaya airport on the third day please buy a flight ticket from the departure around 17. 00 pm to 19. 30 pm.
Related :
If you're interested with Mount Bromo Ijen Tour Package you are able to contact our travel
Bromo Ijen Tour From Yogyakarta Cheap Package Price 2023 2024