Mount Bromo Tour From Probolinggo. Do you need travel agencies Probolinggo to Mount Bromo? You are right if you open this website, we are MtBromoIjenTour.Com provide tour services to Mount Bromo. Especially for the Bromo sunrise tour, and crater climbing from Probolinggo.
Mount Bromo Tour From Probolinggo
There are various bromo tour packages offered to enjoy a vacation on Mount Bromo. The most popular is Mount Bromo midnight tour and Bromo 2 days tour package. This tour package is perfect for those of you who want to enjoy a tour to Bromo, East Java. We will prepares a tour package with complete facility, pick ups service and drop off, hotel accommodation. entrance ticket and many other thing needs during your holiday.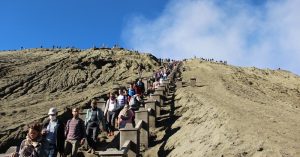 Probolinggo To Mount Bromo Tour Destination
This travel package service to mount Bromo can be started from Surabaya or Malang. We will pick up tourists from the airport, station, hotel, or apartment, then head to the Mount Bromo area. During the two days, tourists will explore the 5 most popular tourist spots in the Bromo Tengger Semeru National Park (TNBTS) area. These spots include the following:
Tour Destinations
Mt Penanjakan, aplace where you can see the sunrise,
Bromo crater
Pura Poten A place of worship for Hinduism
Savanna Meadows as well as Teletubbies Hills,
Whispering sea of sand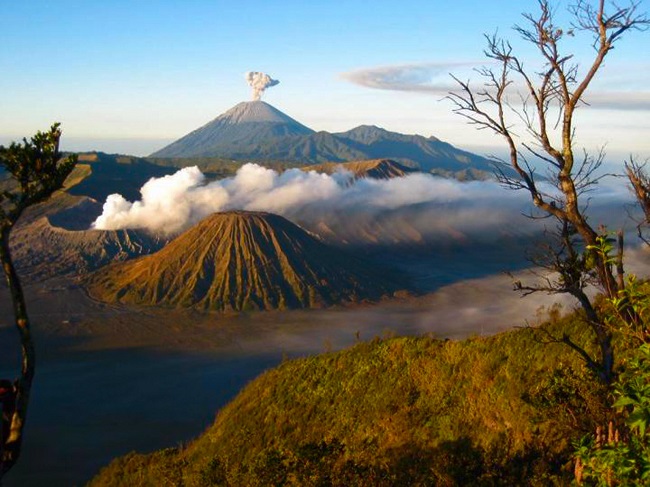 related : Bromo Camping Tour
Bromo has many tourist destinations. Then during those 2 days, what tours can be visited while in Bromo?
Mt Penanjakan sunrise tour
The highest location in the Mount Bromo area is the peak of Penanjakan. This place is the best location to see the sunrise on Mount Bromo. From this point you can also see a series of mountains such as shell, widodaren, Bromo, and Mount Semeru.
Hike Mount Bromo Crater
This is a place that you must visit while in Bromo. To reach this crater you have to walk or rent a horse for 1 km and climb 250 stairs to see the beauty of the crater and its surroundings. On this route, you can also stop at the Great Potent Temple, which is the Tengger Hindu temple building at the foot of Mount Bromo, which is usually used as a Kasada ceremony.
Whispering Sand
A wide and clean stretch of sand is located in the northern location of Mount Bromo. If you like photography, this is one of the best places in Bromo as a photo location. It is called whispering sand because when it is blown by the wind, the surface of the sand makes a sound.
Savanna Meadow And Teletubbies Hill
Other tourist attractions around Bromo that you must visit are savanna meadows and Teletubbies hills. Both of these places are in an area to the east of Mount Bromo which is in the same direction as the Bromo route from Malang City or the route to Ranupane, Ranu Kumbolo, and Semeru.
Related : Bromo Ijen Tour 2 Days & Bromo Ijen Tour 3 Days
Probolinggo To Bromo Tour Option
We have various tour to mount bromo from Probolinggo. But for this article we just offer, a 2 tour . Midnight and 2 days tour. Itinerary and price please check at bellow.
Mount Bromo Midnight Tour From Probolinggo Itinerary
01.30: the tour starts with picking up participants from the hotel/station/location in Probolinggo and drive 1 hours to mt bromo
02.30: Arrive Sukapura, transfer to a Jeep/Hardtop vehicle and drive to  Pananjakan 1  to witness sunrise view
05.00: After enjoying the beauty of the Bromo sunrise tour and the surrounding scenery from Mount Pananjakan, still with the hardtop down to the Bromo sand sea,
05.30: Continue hike to the crater of Mount Bromo
08.00: Return to the jeep parking, then continue the tour to Savanah, Teletubies Hill
09.00: After being satisfied, explore the savanna then visit other interesting spots around Bromo, namely the Sea of ​​Whispering Sand.
10.00: Satisfied with exploring the beauty of all the tourist attractions on Mount Bromo, returning to the place when moving to the jeep
11.00: Transferred back to the original pick-up location.
14.30: Already arrive in Surabaya/Malang. End trips of Bromo 1 Day Tour
Related : Mount Bromo Tumpak Sewu Waterfall Tour 3 Days
Mount Bromo Midnight Tour From Probolinggo Price
| Pax | Price |
| --- | --- |
| 1 pax | IDR 2.100.000/pax |
| 2 pax | IDR 1.100.000/pax |
| 3 pax | IDR 950.000/pax |
| 4 pax | IDR 800.000/pax |
| 5 pax | IDR 700.000/pax |
| 6 pax | IDR 650.000/pax |
Facility
Jeep at Bromo for Bromo Sunrise Tour
A Private Car during the tour (Driver + BBM + AC + Parking)
Mount Bromo entrance ticket
Mineral water is always available
Speaking English Driver
Not included :
Individual needs.
Travel Insurance
Meals
Horse Rental in Bromo.
Tour outside the program
Crew tips
Mount Bromo Tour Package 2 Days 1 Night
We will pick up at your arrival at Probolinggo train station, hotel. bus terminal and from another place surrounding at Probolinggo area. BEsides pick up at probolinggo city area, we area also serve pick up from Kraksaan, paiton and other. Complete itinerary is as follow:
Day 1: Pick Up Probolinggo to Hotel at Bromo
You'll pick up at Probolinggo based on location and the time we agreed. Then we'll proceed on this tour to visit the Mount Bromo attraction having a duration of 3 hours of driving. During the journey to Mount Bromo, we will have lunch at a local restaurant, and once arriving in the Bromo area, check-in process, stay at hotel Bromo / lodge/homestay. In the afternoon you are able to have a walk around Bromo such as see the Bromo sunset or free programs
Day 02: Mount Bromo Adventure – Drop Off
Mount Bromo tour package wisiting all object tourism in Bromo area, It'll begin from early morning at 03. 00 am.  Use a Jeep/hardtop transport. The very first spot are you going to visit is Mt Penanjakan 1 (Viewpoint 1 ). At this place, you'll visit to enjoy and discover the gorgeous Sunrise which has a beautiful view. Also, you are able to see another view for example Mt Bromo, Mount Semeru, and Mount Batok.
After being quite satisfied with the sunrise tour, the subsequent trip climbed to the crater of Bromo. Continued adventure ti WHispheing of Sand, Savana Meadow, and Teletubies hill.  Next, after completing the tour to mount Bromo back to the hotel. Having breakfast and a free program.
After checkout hotel, our team will drop you off at the location for pick up at Surabaya or Malang. End trips of Mount Bromo Tour 2 Days.
Want to combine with Mount Ijen Crater Tour ? Please check Bromo Ijen Tour 2 Days & Bromo Ijen Tour 3 Days
Mount Bromo Tour Price 2 Days From Probolinggo 2023
| Pax | Price |
| --- | --- |
| 1 pax | IDR 3.100.000/pax |
| 2 pax | IDR 1.750.000/pax |
| 3 pax | IDR 1.350.000/pax |
| 4 pax | IDR 1.450.000/pax |
| 5 pax | IDR 1.100.000/pax |
| 6 pax | IDR 1.000.000/pax |
Facility
Including :
Accommodation at Mount Bromo for 1 night (Bromo Permai hotel, Cafe Lava Hostel, Cemara Indah Hotel, Tengger Villa, Adas Hotel, Nadia Hotel, Yoschi Hotel, Sion View, and similar).
You can upgrade to Lava View, Jiwa Jawa Resort, Bromo Terrace, Bromo Whiz Prime or SM Hotel or Plataran Bromo Hotel. Or downgrade rooms to homestays or cheap villas around Bromo
Rent a Jeep at Bromo for Bromo Sunrise Tour
Rent a car to Bromo Private during the tour (Driver + BBM + AC + Highway fee+ Parking)
Mount Bromo entrance ticket
Mineral water is always available
Speaking English Driver
Not included :
Individual needs
Tour out of schedule
Travel Insurance
The cost of renting a horse in Bromo
What should to bring for this trip?
Protective Clothing From Cold Temperatures ( Jackets, Masks, Scarves, Head Covers, Shoes, T-shirts)
Please prepare personal medicines
Camera Or Other Tool That Serves To Capture Vacation Moments In Bromo.
Related Bromo Package Tour and Bromo Ijen Tour :
Mount Bromo Tour From Probolinggo Cheap Package Price 2023